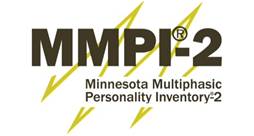 Minnesota Multiphasic Personality Inventory®-2 (MMPI®-2)
Authors
2001 Manual:  James N. Butcher, Ph.D., John R. Graham, Ph.D., Yossef S. Ben-Porath, Ph.D., Auke Tellegen, Ph.D., W. Grant Dahlstrom, Ph.D., and Beverly Kaemmer, Coordinator for the Press
2003 RC Scales Test Monograph:  Auke Tellegen, Ph.D.,Yossef S. Ben-Porath, Ph.D., John L. McNulty, Ph.D., Paul A. Arbisi, Ph.D., John R. Graham, Ph.D., and Beverly Kaemmer
2009 FBS Test Monograph:  Yossef S. Ben-Porath, Ph.D., John R. Graham, Ph.D., Auke Tellegen, Ph.D.
Publisher:  University of Minnesota Press
Length:  567 True-False items
Administration Time:  60-90 minutes
Age:  18 years and older
The Minnesota Multiphasic Personality Inventory®-2 (MMPI®-2), a revision of the original MMPI® (1943) was published by the University of Minnesota Press in 1989 and revised in 2001.  Updates were introduced in 2003 (The Restructured Clinical [RC] Scales) and 2006 (The Symptom Validity [FBS] Scale) documented in a test monograph in 2009.  
Relevant to a range of contemporary applications, the MMPI®-2 instrument is the most widely used and widely researched test of adult psychopathology. Used by clinicians to assist with the diagnosis of mental disorders and the selection of appropriate treatment methods, the MMPI®-2 test continues to help meet the assessment needs of mental health professionals in an ever-changing environment.
The MMPI®-2 test's contemporary normative sample and extensive research base make it the assessment of choice for a wide variety of settings. The test can be used to help:
•     Assess major symptoms of social and personal maladjustment.
•     Identify suitable candidates for high-risk public safety positions.
•     Give a strong empirical foundation for a clinician's expert testimony.
•     Assess medical patients and design effective treatment strategies, including chronic pain management.
•     Evaluate participants in substance abuse programs and select appropriate treatment approaches.
•     Support college and career counseling recommendations.
•     Provide valuable insight for marriage and family counseling.
The 567-item MMPI-2 is composed of over 120 scales, including
Validity Indicators, Superlative Self-Presentation Subscales, Clinical Scales, Restructured Clinical (RC) Scales, Content Scales, Content Component Scales, Supplementary Scales, Clinical Subscales (Harris-Lingoes and Social Introversion Subscales).